From newspaper seller to become the best investor in history: the incredible life of Warren Buffett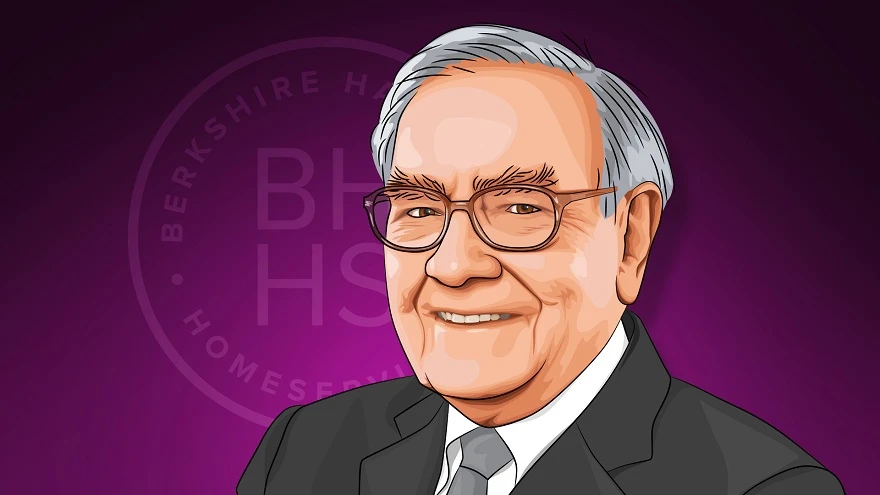 Since childhood he knew what he wanted to be when he grew up: a millionaire. His life changed thanks to a book, whose author was also his mentor
He did not discover an innovative business model. He also did not start a startup in his garage and climbed it into a unicorn. It cannot even be said that he identified a niche to explode.
However, he managed to become one of the richest men in the world. How do i do it? His true potential was in his vision. Your ability to analyze companies, identify those of true future value and know where to bet your money in the stock market.Thus he was building his fortune until he found the company from which to unify his investments and direct his efforts. Not for nothing they know him as 'the oracle of Omaha'.
Berkshire Hathaway became his home. The headquarters are located in the city that gives it its nickname, located in Nebraska, the same one in which it was born almost 90 years ago and that is truly its place in the world.
Although he lived in other latitudes he never finished feeling comfortable and ended up returning to his homeland. Warren Buffett is currently the fourth richest man in the world with a fortune valued at more than $ 90.3 billion, only surpassed by Jeff Bezos, Bill Gates and Bernard Arnault.
"Buy and hold" became one of his mantras when it came to investing. He learned this at age 11 when he bought his first shares. At that time he acquired a couple of titles from Cities Services at $ 38 each and sold them shortly after his price rose.
But if I had waited another time I would have obtained $ 200 for each share. Today his company has a stake in more than 90 firms, including some heavyweights such as Coca-Cola, Amazon, American Express and Apple.
His future vision was the weapon with which he built his empire. In the business world, he is recognized for his intuition, so his annual letters to investors are already a classic for finance enthusiasts.
Even the meetings of shareholders of your company are recognized within the industry. Buffett himself called them "the Woodstock of the capitalists." Although Berkshire Hathaway forms a large part of his career, there is a little known story about how one of the most renowned businessmen of this century made his way.
A child out of the ordinary
The parquet floor was not unknown to Buffett because his father Howard was a stockbroker. That is why since he was a kid he already wanted to start in the world of buying and selling shares. However, his true dream was more superficial: being a millionaire.
The first time he fantasized about it was when he saw another stockbroker selecting his own tobacco leaves to make him a custom cigar. "That's all, you can't get anything better," he thought. From that moment on, I knew I would do everything to get it.
To be a millionaire, you first had to save money. That is why he began to work distributing newspapers and from time to time he also helped in the market that his grandfather ran.
There was also Charlie Munger, who several decades later became his confidant and right hand. He came to put together a kind of entertainment Pyme with an old pinball that he had bought for only $ 25. He proposed to a friend that if he fixed it, they could place him near a business and divide the profits. A year they already had three machines running in the city and finally sold them for $ 1,000.
However, Buffett was uprooted when he had to move to Washington DC. His father had been elected as a congressman by the State of Nebraska, a position for which he would serve for a total of four periods, and the family left Omaha.
"He felt comfortable in his hometown, but he was unhappy in other places," says Alice Schroeder, author of the book The Snowball: Warren Buffett and the business of life. Despite his competitive spirit that always guided him, the only class in which he was doing well was in typing.
Something similar happened to him when he continued his life as a student. The pressure of his family influenced him to join the Wharton School of Business at the University of Pennsylvania. It lasted only two years.
Finally, he enrolled at the University of Nebraska, where he graduated as a bachelor in Business Administration. After completing this stage he had decided to return to Omaha, but something changed his landscape. The intelligent investor book had fascinated him and even shaped his vision when it came to investing.
He had decided to go to the university where his authors, David Dodd and Benjamin Graham, taught to meet them. He then completed his MBA at Columbia University in 1951. Then he began his career in the business world.
Birth of the Oracle
Back in Omaha, he worked for a few years in the family brokerage studio, Buffett-Falk & Co. The interest he had once had in pursuing his father's career faded over time and seeing the business closely was just the trigger"He realized that in reality the stockbrokers were enriched not by generating money to customers, but by the commissions they earned by buying and selling shares outside their orders," says a close friend of the tycoon.
The phone rang and put it back in the Big Apple. His mentor, Graham, took him as an analyst to his firm Graham Newman Corp, where he went on to earn $ 12,000 a year.
But he never felt comfortable away from home. He returned determined to rest a little and analyze the panorama to decide what to do of his life. During a family reunion, several members of his circle asked him what to do with his savings.
"I will not sell shares again, but if you want you can invest in a fund with me and I will handle it as if it were my money, taking care of both the gains and losses. But all with one condition: I will not tell you what I am going to invest in" , he exclaimed. Thus was born the hedge fund Buffett Partnership Limited in 1956, when he was only 26 years old.
He managed this company for 13 years. At the time, he ended up having $ 105 million in assets under management and several partners in various cities.
As fund manager he began to make a name for himself in the industry. For example, he got to know Walt Disney himself and after the meeting he bought company titles for which he obtained a yield of 55%.
In 1962 it was also buying, little by little, very cheap shares, at only $ 8 each, from a small textile factory called Berkshire Hathaway, of which the following year it would become the main shareholder.
"At the end of the '60s there was a flood of accounting scams and mergers built on false numbers and deceitful people. It was a time when many charlatans prevailed on the Stock Exchange and were applauded on Wall Street. I understood what the game was about but he didn't want to play, "says Buffett about the reason he dissolved his fund in 1969. Immediately after that he would take over as chairman in Berkshire Hathaway.
The Buffett framework
"The money is made by investing in good companies for a long period. If you buy good companies, do it for a while. They will perform well in 10, 20 or 30 years," says the businessman. And he adds: "If they are trying to buy and sell shares and worry that they lower their price a little and believe they have to sell them as soon as they rise, then they will not have a good result."
The textile business was not the unit that, according to Buffett, turned his firm into a diamond in the rough, but the leg dedicated to insurance. The tycoon used Berkshire Hathaway as a platform to invest while boosting and adding sectors of interest. Until the textile part directly ceased to exist. Consumption, retail, banking and airlines are some of the most esteemed items for the "oracle".
Of the $ 254.6 billion that the company billed in 2019, 52% corresponds to the sales and services unit that includes companies such as NetJets, Dairy Queen, Flight Safety and TTI.
However, the real revenue plant is McLane Company, supplier of supplies for the retail industry that last year generated a revenue of US $ 50.5 billion. Meanwhile, insurance premiums, mainly from the auto insurance company GEICO, totaled revenues of US $ 61,000 million.
To this are added three more sectors: energy, transport and real estate. The first has interests in various independent alternative energy generation projects, in addition to an electrical network in the United States, United Kingdom and Canada, and two interstate pipelines.
The transport business is especially starring the Burlington Northern Santa Fe railroad company, for which it paid $ 26.5 billion for 77% in 2009. Finally, the "only" real estate leg represents 1.7% of the total invoiced.
Although it is known for its great movements in the universe of actions, according to the latest annual report by Berkshire Hathaway, interest income and investment dividends were US $ 9.2 billion.American Express tops the top ten in terms of participation, since Buffett holds 18.7% of the share capital; followed by Moody's, with 13.1%; and Delta Airlines with 11%. Bank of America (10.7%), Coca-Cola (9.3%) and Apple (5.7%) continue on the list.
And then?
Since 1978 Charlie Munger accompanies him in his holding under the position of vicechairman. They met at lunch, through an acquaintance, and immediately realized that they would get along. That is why Buffett insisted several times to leave the legal world and join him.
"There are not many people I listen to, but Charlie has given me very good advice. I have lived a better life thanks to him," the billionaire confessed.
On August 30 of this year, Buffett will turn 90, while his partner celebrated his 96th birthday on January 1. Although he knows the end is near, he still has no plans to leave his double position as chairman and CEO of the company. However, in recent times, he has begun to weave his strategy for the future.
In January 2018, he promoted Greg Abel, who until then had served as executive director of the energy subsidiary, as vice chairman of non-insurance operations, and Ajit Jain, head of the reinsurance unit, as vice chairman of the insurance operations Soon, Buffett acknowledged that both appointments were part of the succession plan.
Even in his last letter to the investors of Berkshire Hathaway he admitted: "It's been a while since Charlie and I have entered the urgent area. That is not exactly great news for us, but the shareholders of the company do not have to worry. Our company is 100% ready for our departure. "
99% of its assets are made up of shares of its holding company and promised that it will donate most of its wealth. He says that getting all the titles in his possession back to the market can take up to 15 years.