Do you know how many people in Argentina already do "home office" or telework?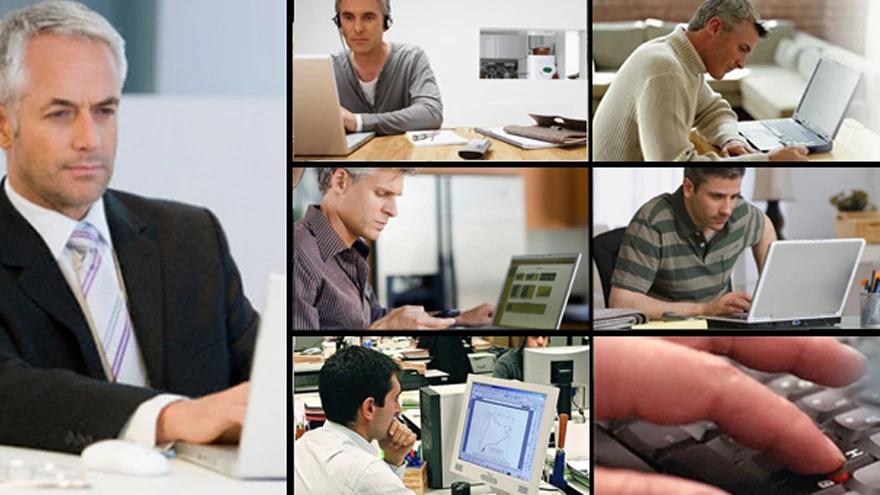 With the push of the youngest, the companies offer other schemes so that the worker does not go every day to work or perform remote tasks
Just as the "Netflix model" freed its users from the schedules of the programming grid, the digital economy is radically modifying the work as it is known.
More and more companies believe that it is not necessary to go to the office every day or fulfill a full time commitment. This, thanks to the advantages that the new technologies bring, that make possible the work at a distance.Before the consultation of iProUP, the expert in labor law, Julián de Diego, points out that there are already 970,000 Argentines doing teleworking or "Home office".
Of this total, 170,000 directly "do not step into the office" or attend very occasionally, while the remaining 800,000 are mixed teleworkers, a system that combines remote and face-to-face tasks.
In other words, 16% of the 6.1 million employees that the ANSES accounts for (excluding self-employed workers) have joined the new hiring trends.
"The number grows at exponential speeds," says Diego to iProUP, who lists the three most frequent modalities in the country:
- Local: the employee has his work space in the company and every time he goes away he resorts to the "home office".
- Semitotal or half-volume: works outside the office, but reports to their superiors once a week
- Nomad: you can work within the company, in coworking spaces or from your home"Imagine how things have changed, from account executives to service company employees to lawyers taking advantage of the possibilities offered by new technologies," says the lawyer in dialogue with iProUP.
"In the case of lawyers, for example, today you can answer lawsuits in the province of Buenos Aires by email," exemplifies.
Moreover, the expert anticipates a paradigm shift that has already begun and that promises to advance over most professions, not only those related to technology.Times change
What happens in Argentina? A study by Randstad indicates that this modality:
- 70% would like to perform their tasks from home or other locations
- People between 25 and 34 are the ones who most want this format (eight out of ten)
- A large majority (78%) consider that a more flexible work contributes to a better balance between private life and employment- Also a large majority (80%) maintains that teleworking increases creativity, productivity and the level of job satisfaction
"We are facing a process of change driven by desires and expectations, especially the youngest, who are attracted by the most flexible formats," says Andrea Ávila, CEO of Randstad for Argentina and Uruguay, to iProUP.
"When choosing, they prefer greater freedom, autonomy and schemes that allow for a better balance between private life and employment, and companies are making an effort to adapt to this demand and aggiornate their structures, processes and forms of organization. more flexible systems, "he adds.
Despite the Argentine regulatory framework, the search for that flexibility on the part of employees (and also of employers) causes this modality to grow, driven by two key factors.
"It is part of a phenomenon of social origin, of cultural changes, the personal objectives of the employees impose new paradigms and resignify the role of work and its relevance in life", highlights Juan Pablo Peries, Manager of InhouseServices of Randstad.
"This is clearly linked to the advancement of technology, which facilitates processes and tasks that until recently were unthinkable, turning into reality the utopia of fleeing the city to work in front of a pool or, even, hundreds away of kilometers ".
In the beginning it was the "Y" generation that drove the change. Then there was a kind of contagious effect and today people of all ages appreciate this possibility and are turning to this option, since it allows them to continue focusing on their personal goals."Remote employment is very different, established as a benefit associated with some day of the week, for example, extending this modality to five days a week, that is, full time," Periesa clarifies iProUP.
In the first case, it is a growing practice for some years, either by "voluntary" choice of employers or by "imposition" of workers. In the second (full-time home office in dependency relationship), the companies show conflicting opinions.
Some firms claim that the benefits are multiple. Others, like IBM, have been questioning their teleworking strategies, arguing that "neglects interpersonal relationships, diminishes the sense of belonging and creativity generated by having teams physically together, discourages teamwork and weakens contact with the clients".Control and management
Teleworking has among its main challenges maintaining the culture of the company. There are companies that combine face-to-face and remote teams and the latter should feel the same way as those who attend daily.
Most authorize one or two days of home office per week for certain areas. There are other companies that extend it up to four days a week and implement the same control mechanisms that they use for face-to-face employees: by objectives or based on projects.
"The performance indicators remain the same in one case or another, which allows rewarding based on the results beyond the modality", says the Randstad executive.
On the other hand, María Inés Calvo, director of Talent Attraction for Latin America at Microsoft, points out that the company "is a format that has been installed for a long time and is part of our flexibility framework"."As flexibility and balance come to be different concepts for each person, we encourage each collaborator to define together with his manager the best form of employment and what days he will work from home," he tells iProUP.
Within its program, the company offers the following benefits:
- Time flexibility for each person to manage how much time they spend on their tasks
- Compensatory days per trip on Saturday, Sunday and holidays
- Short week in summer season
"We seek to promote an environment based on trust, responsibility and work by objectives, measured according to the impact each one generates," the executive explains.
In intive-FDV they started implementing home office one or two days a week and today they have full-time teleworkers. Some even live in other cities.
"It does not mean working during the holidays, but extending the rest period and working from where they are," he explains to iProUP. And he adds: "We do not have an hourly record of the employees, but each must meet certain objectives" .The company developed the chatbot "Sheena", a system by which they record what they did each day and how much time they assigned to each project.
Fernando Judzon, COO of Virtualmind, says that in the company they have the possibility of doing home office once a week, but if someone needs to stay in their house some other day, they can do it.
"Being flexible should be paramount for any employer, the idea is to incorporate more days over time," he says.
According to the spokesperson, in the firm they discovered "that it is more important to work for objectives than for the time worked, and in turn, the new generations have been proposing this necessary flexibility for a better performance".
"If the person is clear about what is expected of her, she can carry it out in the office or at home, however, the labor ties are very important and having face-to-face meetings streamlines many tasks. towards something moderate, "he adds.
While there is no control regime, in Virtualmind they use software in which tasks are loaded. "One must trust in their collaborators, in their times and ways of working," he says.
On the other hand, Victoria Calabró, Mr. Workplace Specialist of Eventbrite, remarks that "everyone can work from home when they need it"."The conditions are having a good Internet connection and complying with the HR notification process so that we are aware that the day was not physically in the office, all expenses are paid by the worker," he explains. to iProUP.
The directive adds that "you work as a team and for projects that are generally quarterly". And he adds that "the focus is on the person fulfilling and achieving what the company and he proposed when planning the work".
In addition, each employee "holds regular meetings with his manager to check personal work, as a team and the progress of the project."Seduction strategies
The salary is no longer determinative when it comes to retaining an employee. According to Global WorkplaceAnalytics, almost seven out of ten people prefer to perform their tasks remotely and 36% prefer it to an increase.
"In terms of recruitment, the flexibility is positive because it is a highly valued benefit, and it also allows the talent that is inside the country to work in the company," says the spokesperson of intive-FDV.For its part, the head of Microsoft notes: "Having flexible practices allows us to strengthen our strategy of attraction and retention, improve the quality of life of staff and have more satisfied employees."
"The home office is very appreciated by the new generations, who consider that going to an office from Monday to Friday is something that does not fit their life plan," completes the Virtualmind executive.
With teleworking, companies also reduce infrastructure costs, electricity consumption and maintenance; optimize spaces and generate opportunities for many people who could not access otherwise, such as people with reduced mobility or who have someone in charge.
If the objectives are prioritized, productivity is rewarded and the development of talent is promoted, flexibility becomes an ally, since productivity is not linked to strict compliance with the schedule, to presentism and to the amount of hours spent in the workplace. office.
Those organizations that incorporate flexibility as a motto will achieve a substantial improvement in the motivation and commitment of their employees, without increasing their costs.The war for talent in the digital economy demands more flexible jobs. Companies know this, and they adapt to what is coming or, better said, to what was already present.